Save on routine care with our Dental Healthcare Club
Enjoy scheduling convenience with extended hours
In most cases, get same-day care for emergencies
Find Out More About How We Put Patients First!
We can see you as soon as tomorrow!
Check Out Patient Resources in Searcy
We're so glad that you're looking to make Searcy Family Dental your new home for your dentistry needs! Here you'll find easy access to our new patient forms to help shorten the time spent on paperwork once you arrive for your appointment. With your paperwork already filled out, you'll spend less time in the waiting room and less time waiting on your insurance benefits check.
Here is some other information you may want to know before your appointment with us: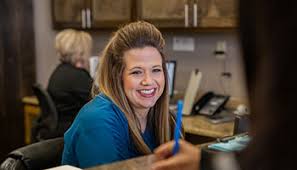 Our Location – We're at 1639 E. Beebe Capps Expy in ZIP code 72143. We're located near the Stevens Soccer Complex and several schools, including McRae Elementary, Southwest Middle School, and Searcy High School.
Our Hours – We're in the office 7 a.m. to 3 p.m. on Monday, Wednesday, and Friday. On Tuesday and Thursday, we take appointments from 7 a.m. to 1 p.m. and between 3 p.m. and 7 p.m.
Our Payment Information – We accept most insurance plans, credit cards, cash, check, and third-party financing like CareCredit and LendingClub. We also have a Dental Healthcare Club. You can find more information on our payment page.
Ready to schedule your appointment? Call 501-203-0120 today.