Find comprehensive dental services for all ages
Open as early as 7 a.m. and as late as 7 p.m.
Broken dentures? Get fast repairs
Schedule An Appointment With A Dentist Who Shares Your Values.
We can see you as soon as tomorrow!
Community Involvement in Searcy Is Important to Our Team
If you keep air in your tires, you're less likely to get a flat tire. In the same way, it's simpler to stop a cavity than to repair one. Preventing problems is always easier and less expensive than fixing them. That's why we put so much importance on general dentistry in Searcy. Services like dental cleanings and exams will:
Dr. Joseph Barker and our team have always believed we should give back to the community that has been so good to us. Below are a couple of the ways our dentist office pours our time and resources into the Searcy area and beyond.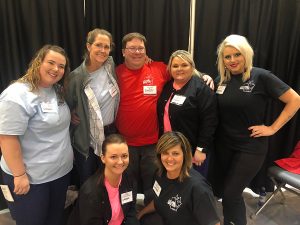 We participate in the Arkansas Mission of Mercy, which provides free dental care to all ages during an annual two-day event. Founded in 2006 by the Arkansas State Dental Association, it has provided well over $9 million in dental services. We look forward to next year's event.
We actively support activities at some of our local schools.
Call us at
501-203-0120
today to schedule an appointment. Help us give back to the community.