Schedule "happy" visits for young children
Conveniently located around several schools
We offer services for patients 2 and older
We Provide Expert Dental Care For Children & Adults.
From Toddlers to Seniors, Family Dentistry in Searcy Is for Everyone
Maybe you think you'll never find a single dentist who can provide services for every member of your family. Good news, your search is over! As you can tell from our name, family dentistry in Searcy is a special focus for us.
Our family-friendly features include:
Services for all ages, from orthodontics to dentures
An office atmosphere that is welcoming for all ages, from toddlers to seniors
"Happy visits" for our youngest patients
A location near several schools, including McRae Elementary, Southwest Middle School, Searcy High School, Harding Academy, and Harding University.
Laughing gas, which is a safe way to keep you relaxed during your care
To visit a dentist who welcomes patients of all ages over 2, call Searcy Family Dental at
501-203-0120
.
Give Your Child a Happy Introduction to the Dentist
Many dentists say they like young children – but don't have kid-friendly offices. Our office truly welcomes your kids. It's important to give them a positive introduction to the dentist, as it can set the tone for their future interactions. We're happy to see patients as young as 2.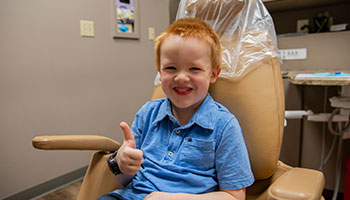 While we'll check the development of their teeth, their earliest visits will be focused mostly on getting to know our dentist and team. We can also answer any questions you have about issues like teething or thumb sucking. As they get older, we'll gently clean their teeth and may suggest preventive care such as fluoride and
dental sealants
. Your child will receive a prize from our "treasure chest" at the conclusion of their visit. We can often see several family members in the same day for your scheduling convenience. Just let us know when you call. We're open as early as 7 a.m. and as late as 7 p.m., so it's easy to see Dr. Joseph Barker before school or after work.
Find All the Services Your Family Needs
As you get older, your teeth change – and so do your dental needs. Fortunately we offer all the dental services you're likely to need. In addition to
general dentistry
like dental cleanings and exams, you can receive:
Cosmetic dentistry, to make your smile beautiful
ClearCorrect orthodontics
Restorative dentistry, to fix dental damage
Dental implants
Oral surgery, including tooth extractions
Dentures, manufactured at our in-house dental lab
To make appointments for family dentistry in Searcy or in nearby communities like Newport, call
501-203-0120
.